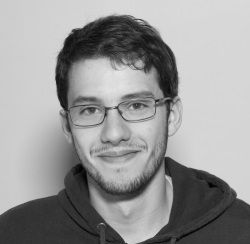 Luis Eduardo Reis
My name is Luis, I'm a 25 year Software Engineer from Portugal.
I've studied at FEUP where I completed the MIEIC programme.
I'm currently working in Feedzai's office in Porto as Software Engineer in Test.
My hobbies include:
Media/Games: Magic The Gathering, Modded Minecraft, Factorio, Anime, Science Fiction
Music: Vocals, Guitar, Drums
Sports: Running, Cycling
Crafts: Electronics, Woodworking, Lego, Web Dev, Game Dev
I regularly participate in the Ludum Dare Game Compo and other Game Jams.
Contact: luiseduardo.mreis "@" gmail.com
Personal Projects:
Blog:
Games:
Other Pages: