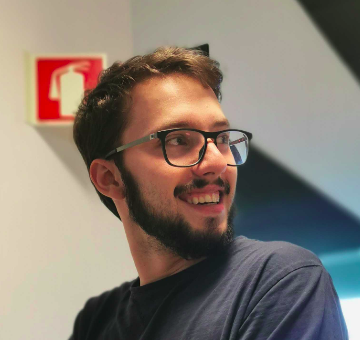 Luis Eduardo Reis
My name is Luis, I'm a 26 year Software Engineer from Portugal.
I've studied at FEUP where I completed the MIEIC programme.
I'm currently working at Blip as a Backend Developer.
My hobbies include:
Media/Games: Magic The Gathering, Modded Minecraft, Factorio, Anime, Science Fiction
Music: Vocals, Guitar, Drums
Sports: Running, Cycling
Crafts: Electronics, Woodworking, Lego, Web Dev, Game Dev
Contact: luiseduardo.mreis "@" gmail.com
Software Projects:
Hardware Projects:
Pocket Amplifier
Quick 5€ weekend projet of a pocket size guitar amplifier.
This was based on this project with a few changes.


MTG Card Scanner
A machine that scrolls through and identifies a pile of MTG cards.
The machine is made out of LEGO with a NXT as the controller. The controller is just a dumb client that has two operations: "next card" and "drop card".
The brain is on a linux machine that is connected through an serial interface to the NXT.
The card identification algorithm works by first doing an image hash over a photo of the card took by an old low resolution webcam (enough for this purpouse).
The hash is then compared to a database of pre-hashed MTG card images.
Fortunately there are a lot of nerds into MTG so there are a lot of good datasets for MTG card images :)
Unfortunately the match rate wasn't good enough for realiable use of the machine (around 95% and even lower for older cards).
Even so this was a cool litle project that was a lot of fun to build, code and see working :)


Icarus RC Plane An RC plane that I already totally wrecked twice. Icarus I and its reincarnation Icarus II died glorius deaths. Icarus III will be designed from scratch and it's a WIP at the time of writing.
Games:
These are mostly games I've made in 48h game jams. I've been to a fair share of them and managed to score a 1st place and 2nd place on two of them.
My development stack for games is usually either Java with LibGDX when I want to make something bigger or Javascript with p5.js when I want to make something quick.
Other Pages: